There is a general misconception about simple concrete blocks - cinder blocks – clinker blocks – 40 x 20 x 7 cm that they are not strong enough for any building structure. These blocks are made locally in villages, thus supporting the local workmanship, avoiding long distance transportation.
It needs just to look around seeing that almost all boundary fences are built by such blocks, hardly witnessing that such wall would be ever broken. Even if the foundation had not been properly made and collapsing, the wall will tilt at the whole length, not breaking apart.
Who has ever tried to break and remove such wall will know how hard it is. If we use such wall erected in double cladding with a cavity in-between the wall can be used as load bearing thus avoiding the need to provide a column structure with even more difficult beams above. To make the structure more sturdy a steel wire is laid under the blocks (I used 3 mm wire under every 3rd layer). Then, in the corners and in the middle of a long wall steel bars are vertically inserted, the cavity cast by concrete, thus providing the same function as a column.
The cavity in-between the 2 blocks (3, 4 cm distance) can be left empty or filled with a suitable insulation material, I have used wooden sawdust. Such wall protects the heat flow from outside, perhaps much better than a single wall of AAC blocks. An argument can be that a heavy concrete structure accumulates more heat than a light porous block. Once the house is kept closed during daytime the inner blocks do not heat up, then the difference of few centigrades can be neglected.
Once the wall is erected to the height a concrete reinforcement ring is formed in-between blocks or bricks with embedded steel profile prepared for welded connection of roof structure.
Instead of difficult digging of holes for columns the foundation for the walls is created by a trench (40 – 50 cm wide) with blocks at sides (instead of wooden formwork), with embedded reinforcement bars and filled with concrete in a reasonable depth of the terrain. Such ring around the house – and subtle ones under the inside walls – have much larger total bearing surface than the number of the pads under the columns.
In this technique I have built extensions (7x7m) to my house I bought in ruins 13 years ago. Also 3 kiln drying chambers 12x12m with furnaces and blowers (survived few fire blasts). And also my swimming pool 12x3m, 1.5m deep, where the double block wall cavity was filled by concrete, the pool finished within 6 weeks - described in a thread
viewtopic.php?f=19&t=4736
All these structures had survived two earthquakes when water flown with 10cm wave over
the swimming pool edge.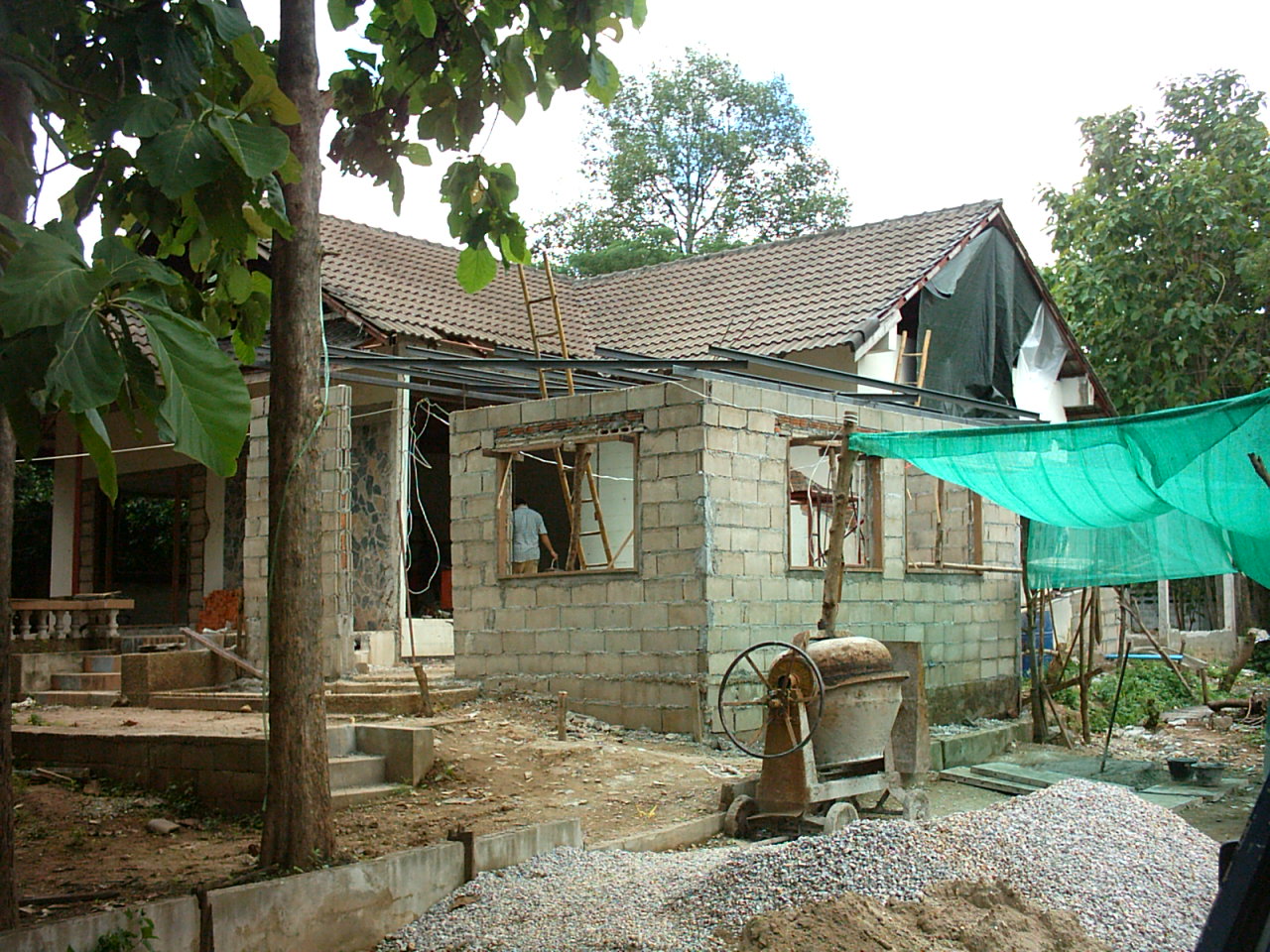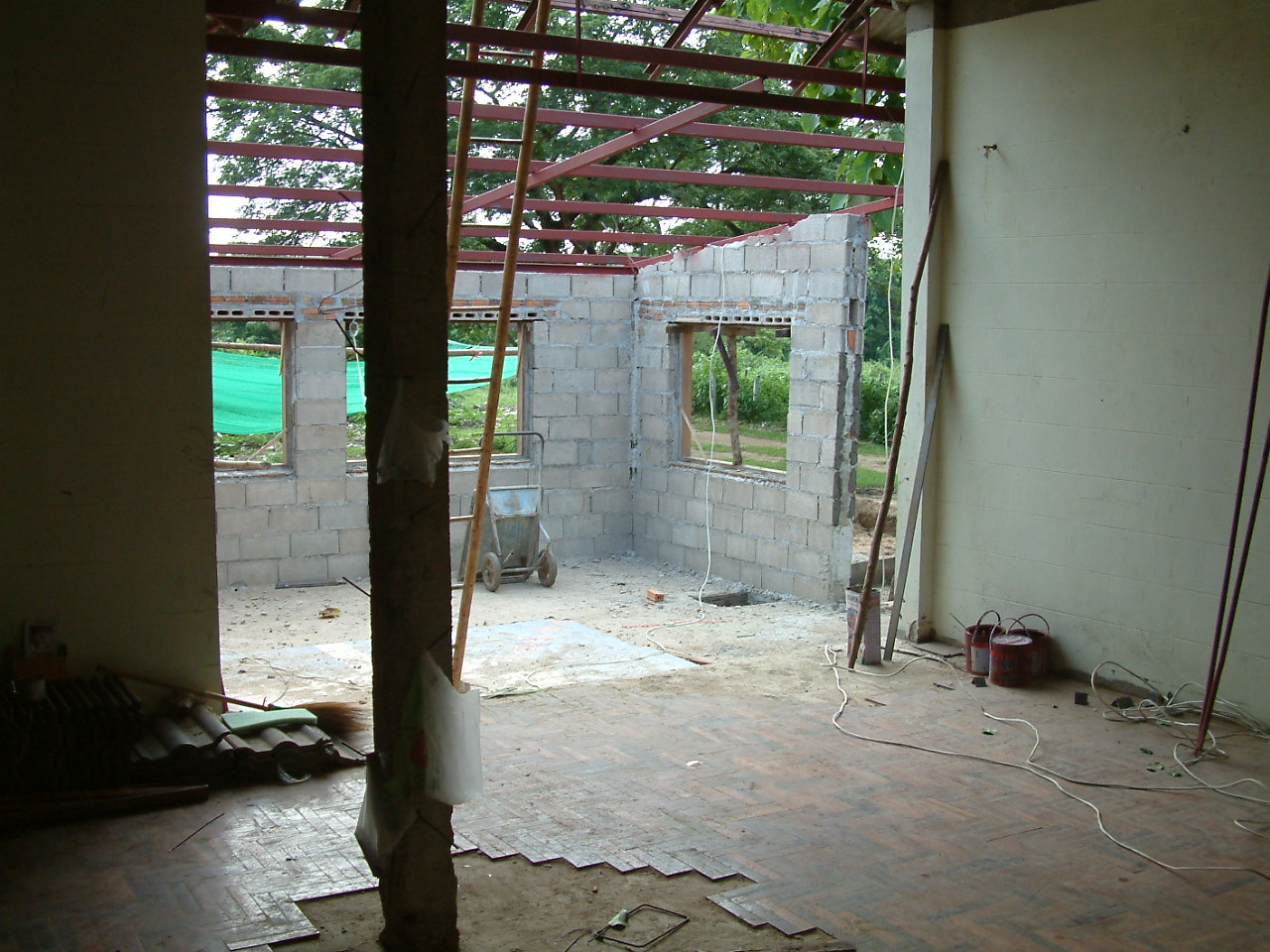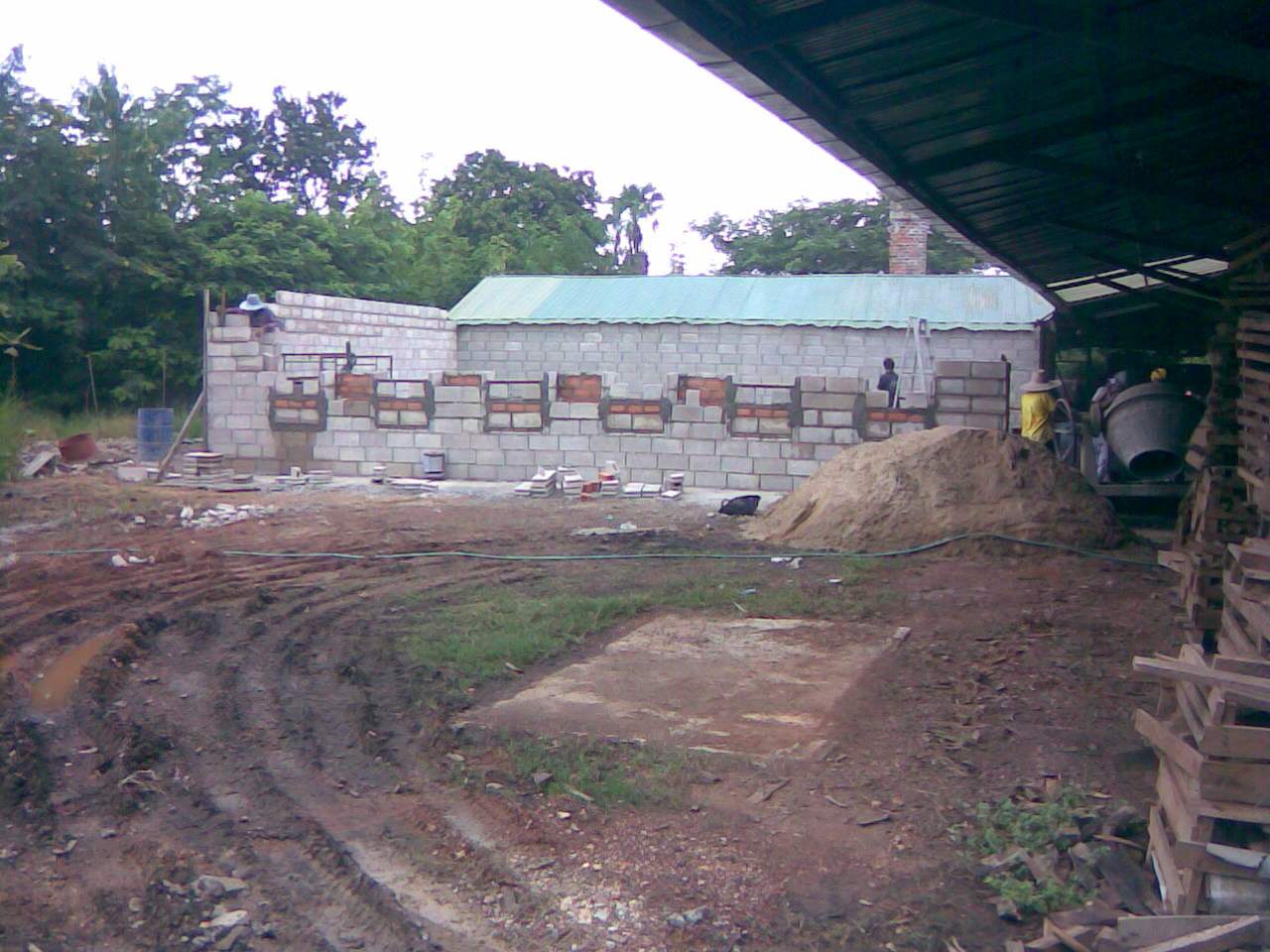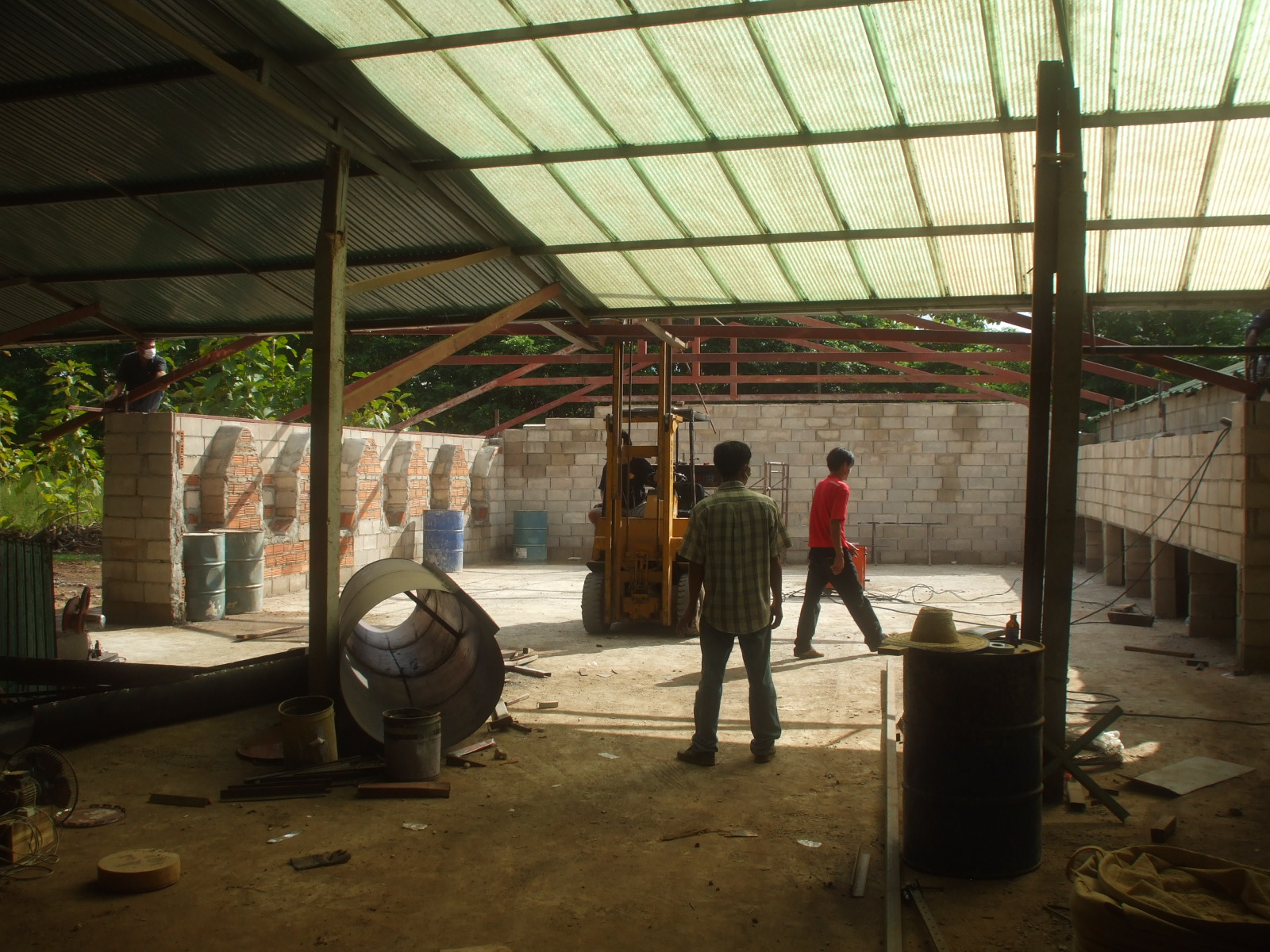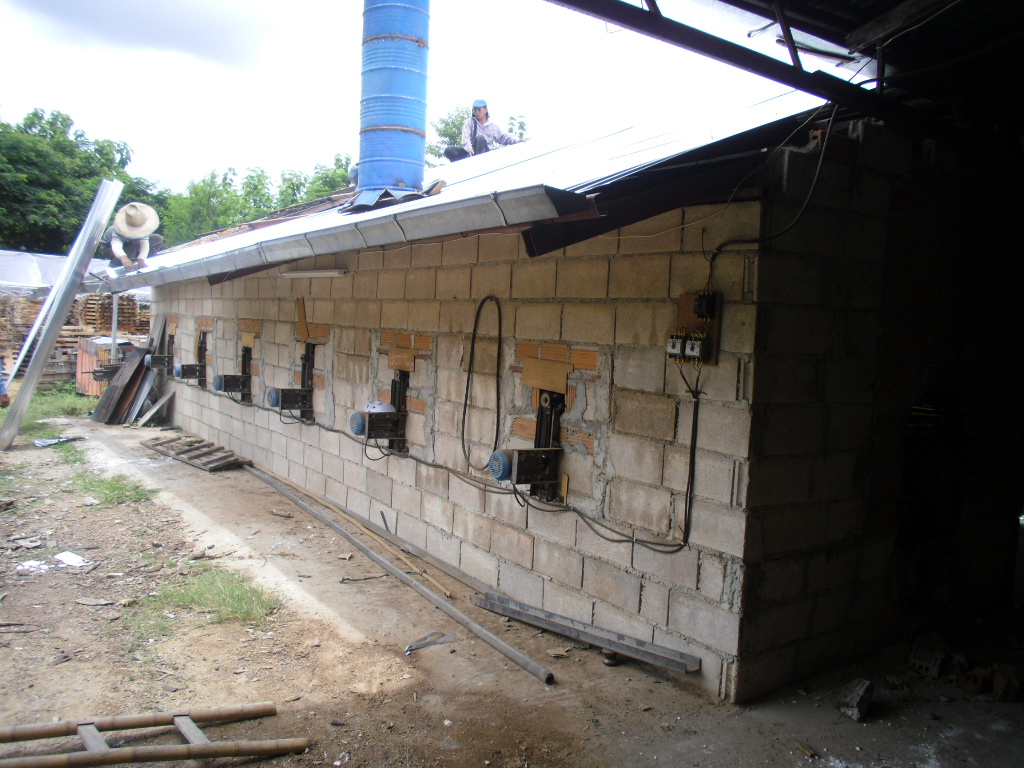 Rough cost for walls and foundation of a house 12x12m, 3 m high, double walls:
4x12m (wall length) x3m (wall height) x 2 (double wall) - 10 windows/door @5m2
288m2 - 50 m2 = 238 m2
Calculating 15 blocks to 1 m2 (normally we need 12.5) 238 x 15 = ca. 3,500>4,000 blocks
For foundation + 1,000 blocks
5,000 blocks @ 6 Baht 30,000
foundation trench digging 7,000
steel bars 20,000
sand 4 trucks @3m3 2,000
cement 100 bags @ 110 11,000
total walls 70,000
workmanship: 4 people @ 500 daily for 50 days = 100,000
Within 2 months the house is prepared for roof structure.
These two months would not be enough when making a traditional column (sau) construction with formwork for beams.